Beetham Tower from Deansgate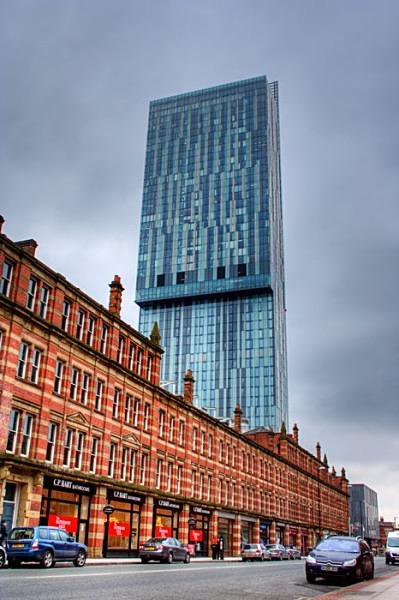 Beetham Tower (also known as the Hilton Tower[8]) is a landmark 47-storey mixed-use skyscraper in Manchester, England. Completed in 2006, it is named after its developers, the Beetham Organization, and was designed by Ian Simpson.[4] Occupying a narrow plot of land at the top of Deansgate, the development was proposed in July 2003 and construction started a year later. At a height of 168 metres (551 ft), it is the tallest skyscraper in Manchester, the ninth tallest building in the United Kingdom and the tallest outside London.

The Hilton Hotel occupies space up to level 22 and a four-metre cantilever marks level 23 where the Cloud 23 bar is located. Above this level are apartments from level 25 to the triplex penthouse apartment on level 47.[3] It is the tallest residential building in the country and second tallest in Europe after the Turning Torso in Malmö, Sweden.[9] The structure is one of the thinnest skyscrapers in the world and was designed to be a slender tower.[9][10] A blade structure on the south side of the building acts as a façade overrun accentuating its slim form and doubles as a lightning rod.

The skyscraper is visible from ten English counties on a clear day. The top-floor penthouse offers views of Greater Manchester, the Cheshire Plain, Pennines, Peak District and Snowdonia. The tower is known for an intermittent but unintentional hum in windy weather, believed to emanate from the glass 'blade' atop the building.[11] The hum has been recorded as a B below a middle C.[12]

Architectural response to the skyscraper is polarised and interpretations vary. Some questioned its domineering appearance over the city while others feel its peculiarity is reflective of Manchester.[13][14] It was deliberately designed as a striking but minimalist skyscraper which reflected the resolute and unpretentious values of northern England. The cantilever symbolically bears the load of the north façade representing the historical strength and revival of post-industrial Manchester following economic decline in the 1980s and the 1996 Manchester bombing.